TEN CORPORATE VIDEOS THAT CAN BOOST YOUR BUSINESS
RUNDOWN OF CORPORATE VIDEOS
So you're seeing your competitors all post corporate videos on their websites, Instagram, LinkedIn, YouTube, or any of the countless platforms out their hosting video content. You've posted on social media and shared articles and done everything in your power to promote your brand, but seem to have expended your capabilities. Mist Media Reports that the average internet user spends 88% more time on a site with video. Therefore, videos seem the next step. But all that seems rather complicated. To start with…what kind of video should we make?
First off, it's absolutely 100% normal to be a bit confused or intimidated by the corporate video production process. All the moving pieces and specifications going into a production are a lot to handle. But what you can do is learn about what sort of corporate video production may suit both you and your budget.
Here are 10 essential types of corporate video and how they can take your business to the next level:
1. Testimonial Videos
Testimonial videos are any video where a business uses interviews from clients currently using their services to talk about the experience they've had, why they use a particular company and the services they provide. Testimonials can be used as the backbone of almost any of the videos below. They are a great way to reach future recruits, potential clients and audiences who want to hear from people like them instead of the company itself.
When done right, Testimonial Videos should feel like a personal recommendation from someone you know and trust.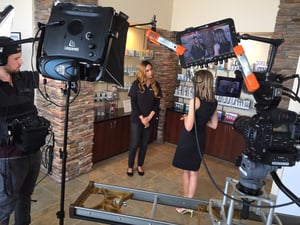 While full testimonials may live on LinkedIn, YouTube, or a company's website, shorter cuts of 30 and 60 seconds are ideal for Instagram and even Snapchat. Testimonials are some of the most versatile videos a company can choose to use in their longer forms, or repurposed into smaller bites throughout their digital landscapes. They are often a wonderful place for a a company venturing into video for the first time to start and take a lot of the pressure off having to talk about themselves, allowing their customers and business partners to do the heavy lifting.
2. Corporate Event Videos
Event coverage videos are a great way for companies to highlight their event's atmosphere and personalities of its attendees. Having a video team at your event is incredibly common both for large conferences and small corporate events.
Some of the most common event videos include sizzle reels (or highlight videos), live-streams, lectures, panel discussions, and interviews. Aside from capturing the event's most memorable moments, having a video production team documenting an event can provide loads of assets for marketing departments and is a great way of highlighting the contributions of an event sponser. Keynote presentations have proven a big hit on YouTube and are valuable for spreading brand recognition. Meanwhile, Interviews with the event's attendees are short and sweet enough for play on Instagram.
Within a video event coverage package, you'll get a whole lot of content that can be repurposed for later videos, which make a great corporate event last for months past its end date.
3. Branded Videos
Branded video content is still a rather new phenomenon, but simply put, it's any video content that is sponsored or produced by an advertiser. The difference between branded video content and a classic advertisement is that in branded content the advertiser in almost completely in the background. Branded content has become an extremely popular way for brands to communicate with their audience without the shout-y way of selling through traditional advertising.
On branded video pieces, there really tends to be of partnership between the brand and the sponsor. It's the video production team's job to assist in the partnership, making sure the project runs smoothly. Communicating with both the brand and content provider is the key to making sure all sides are thrilled with their branded content.
4. Company Culture Video
Company culture videos should communicate to a larger audience what it is like to work for your company. Though largely as a recruitment asset to show prospective employers what they get from working in your environment, company culture videos can also be a valuable video marketing tool.
A great company culture video is generally shot at the workplace, and feature employees sharing their experience. Nearly every established company has a highly focused and inspiring mission statement on their website, great company culture videos should aim to highlight that statement in video form while also letting the employees' personalities to show through.
5. Small Business Video
Like company culture videos, small business videos are highly focused on telling your company's story. However, with small business profiles, you're looking at something more informative on the nature of your business. Running no more than 3-minutes, an effective small business profile, will act as a synopsis of the company from founding to present. Every company has a story of how and why it was started. These videos allow for the personal story of your company to be told; why you do what you do and do it so well.
Attention-grabbing intros are vital in producing an effective small business video. Since the video is short, you want to make sure that the viewer is invested right off the bat. Great B-Roll of the office and the employees can really work drive home a compelling message, while keeping the viewers rapt.
6. Interview Video
Interviews are components of many different sets of corporate videos, though it's important to touch on them specifically, since proper interviewing technique is something a professional video production team absolutely can't live without. When conducting a video interview, first and foremost, you want the interviewee to be comfortable. The best interviews are the ones that feel natural and spontaneous.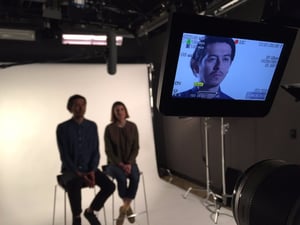 If the interview subjects are either public figures, or high standing business people, most of them are used to being interviewed quite often. So, it's especially important that you have a crew of professional audio and camera ops, makeup artists, gaffers, directors, and producers that have hundreds of interviews under their belts to keep things running fluently. There's definitely a right and wrong way to conduct and interview, so it's important to have a video production team versed in every aspect of the interview process.
7. Corporate Recruiting Videos
Recruiting videos are common fare at career expos and can be utilized to attract prospective employees. You want a recruiting video to be inviting, while also embodying the company culture that your company wants to promote.
When approaching corporate recruiting videos, the impetus should be on cultivating an emotional response that will in turn inspire action. Letting the story unfold through the words of the employees themselves can tap into the emotions of the viewer. Above all, a skillful production is necessary for striking a balance between professional and approachable that candidates look for in a company they want to work for.
8. Product Videos
Product videos are the some of the most functional videos to have in the corporate video sphere. Studies say that adding a product video to you landing page can increase interaction by 80%. Centered around a product, its specs, and how it works, you'll oftentimes see product videos right at the top of the product's web page.
Companies with new gadgets or software may find it especially useful to have a product video on display. To achieve its purpose, a product video must properly and clearly show the viewer how the product looks and functions. It takes production and preparation to ensure that the product and all of its functionality is covered in the video.
9. Social Media Videos
The best things about corporate videos is that every category we've mentioned can be repurposed as a social media asset. Reels as short as 10 or 15 seconds can be great for Instagram. Videos running a bit longer hit the sweet-spot of the information-hungry LinkedIn or Facebook user.
Social media videos thrive on interaction. That's why it's important to create unique content that is driven by creativity. By the end, every social media video should inspire your audience to action. Meaning, the viewers should want to leave a comment, visit your webpage, or read/watch more on what you've posted.
Social media is truly a new frontier for video content. Staying ahead of the curve and creating videos that optimize your brand's presence is super super important.
10. Startup Videos
Startup videos are a great way to capitalize on the hard work that has gone towards your company's launch. If videos are about telling companies' stories, this is where they all begin. Creating startup origin videos should be an informative exercise, but it should also showcase the culture you are building. When producing such videos, our ultimate motivation is to capture the feeling that comes with launching a startup.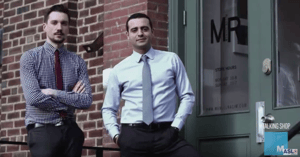 Starting a new business is a risk but having a video to accompany your launch is a pivotal marketing asset.
Your Home for NY and NJ Corporate Video Production
Though we just highlighted the then most essential corporate videos, there are obviously many more. In our decade plus in the business, we've worked on many customized videos unique to the industry their dealing with. Feel free to explore our website and don't hesitate out to us for any related questions!