THE ESSENTIAL GUIDE TO CORPORATE RECRUITING VIDEOS
Corporate Recruiting Videos: Where to Start
We've seen corporate recruiting videos used for years to attract prospective employees. However, there's no one-size-fits all approach. Every business is different. So, in order to serve their own unique purposes, every company should tailor their recruiting videos to fit their specific brand identity.
The benefits of corporate recruiting videos can last for years. The spike in Internet video content has given recruiting videos a new home. Twenty years ago, the only outlets for corporate recruiting videos were conferences, career fairs, and recruitment events only. Today, they're an essential part of Internet video content marketing strategies. LinkedIn, YouTube, Instagram, and Facebook offer platforms for recruitment videos to live on for any and everyone to watch at their own leisure.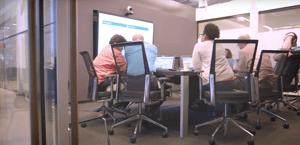 Building a network of skilled professionals is integral to any business today. Thus, finding opportunities to leverage your company's culture to reach a wider network ought to be strongly considered. Luckily, the days of stuffy, grey corporate recruiting videos are long gone. Today's corporate recruiting videos are vivid, upbeat, imaginative, and oftentimes wickedly funny. Injecting the spirit of your company into corporate video content is just the start.
While each recruiting video varies from one to the next, there are several points that ought to be the focus if you're looking to make a memorable corporate video that strikes an emotional connection with your audience.
Your Recruiting Video is a Chance to Show Off!
When filming corporate recruiting videos, you want your offices to come off like a corporate Disneyland. If you have a great view, show it. Your kitchen is well-stocked, flaunt it. If you have an awesome game room, let it be known. Your recruiting video should capture why your company is special. If that means bragging a little bit, go right ahead!
Groupon does a great job of highlighting their Chicago office through an "Office Tour" recruitment video. The angle Groupon takes is certainly cheeky and a bit of a spoof, but it really gets to the heart of what makes their office and their employees special. You can't take a break in their 'Enchanted Forest' or walk past a cat-piloted UFO in your average office, can you?
While you don't need to be as goofy as Groupon, you should hone in on the unique elements of your company and show your audience all you have to offer: UFO or not.
Who Should Sit Down For A Video Interview
The best way to reach new people is through allowing them to hear from people who have been 'there' before. Whether it's the new employee satisfied with the decision they'd made to join, or the CEO who started at the bottom and was given every opportunity to grow, everyone has a story. Interviews with those who used to be in the shoes of your audience are often the most direct way to connect with them.
Laid bare, a useful recruiting video should tap into an emotional response from the audience. Constructing a full image of your company starts with the employees. Hubspot starts off with video interviews of their Founder and the Customer Research Director. As the corporate video reaches its halfway point, we hear from handfuls of web designers and programmers. It's that straightforward, realistic approach that makes this such a successful recruiting video.
Prestige Is Powerful Video Content
Branding is vital to keep in mind when putting together corporate recruiting videos. You can offer all the pool tables and yoga classes that you want, but that's all useless if you don't establish yourself as a cohesive workplace. Seasoning your video content with accolades can be a huge attraction to some of the top employees in your network.
A company with prestige and name recognition as powerful as Nielsen needs a recruiting video that establishes them as an industry leader. In their "Extraordinary People" recruiting video, they do a masterful job, in just three minutes, of highlighting the world class talent that comes through their doors to work for them. By the recruiting videos' end, the audience is left with the impression that Nielsen is a company that is a part of something much bigger than what goes on in their office.
Don't Overthink Your Video Content
The best corporate recruiting videos are the ones that make good use of their time. Most recruiting videos run between 90 seconds and three minutes, so it's important to make sure that every moment counts. Try the right balance between the informational and emotional, while not overthinking it.
Sometimes the best video is the one that doesn't try to be too many things at once. Getting across exactly who you are and why you are a great place to work for most companies can be more than enough as long as your personality shines through
Billtrust's recruiting video makes great use off all 2:45 of its runtime. The corporate video summarizes the company's work, introduces their departments, and highlights their commitment to work-life balance all in an upbeat, tidy fashion. Recruiting videos don't require a slight of hand to make you go from knowing zilch about a company to filling out your application. They simply require a smart, well-produced video that hits all the key points.
Don't Forget…Recruitment Videos Can Attract Future Clients
So, you've read all about recruiting videos, and still can't seem to make a decision on what angle to take. If that's the case, take a step back and a deep breath, and think about what you'd like to see. Recruitment videos are seen by everyone nowadays, not just potential recruits. If a potential client is browsing your website, or YouTube channel, they'll likely stumble upon you recruitment videos. So make something you can be proud of!
Every once in a while, recruiting videos like the one Dropbox made come along and reimagine what a recruiting video can be. Their hilarious and unforgettable recruiting video from 2012 features their San Francisco HQ's employees as portrayed by puppets. The video not only becomes indelibly etched in your memory, but it also reminds us the that video production is an adventure!
Not only is it creatively one-of-a-kind, the video content also does what every good recruiting video should do—and that's displaying the company's personality for future clients and employees to get a taste of. So, next time you're producing a corporate recruiting video, you don't necessarily need puppets, but you should definitely remember to express your business' personality by thinking outside the box.