YOUR DIGITAL MARKETING PARTNER AND THE ROLE OF GRAPHIC DESIGN
Knocking your digital marketing strategy out of the park requires hitting on several levels. Whether it's through video, social media, or a dynamic visual presence. Between social media platforms and company webpages, visual content has more places than ever to live. With these endless spaces, a digital marketing partner has become indispensable players in the marketing space. If you can get the most out of their talent and expertise, it will work wonders in your marketing efforts.
We've written before about how it's becoming popular for businesses to go out of house with digital marketing. It can be an effective way to market your brand long-term and get the highest quality around-the-clock work for less. Among these digital marketing services, you're getting a graphic designer who offers a stock-pile of resources and a skillset that can be utilized by your company creating place to go for all of your design needs.
When going out of house with something like graphic design, it's difficult to grasp what deliverables that will specifically include. Here, we've laid out the best uses of a graphic design package, and how you can go beyond the norms to build a memorable visual campaign.
Marketing Materials
For companies who want to take advantage of marketing, having a graphic designer on your side is a must. Understanding the necessity of brand consistency is key to a cohesive marketing plan. Your designer can shape how your brand reaches the masses.
Advertisements are made catch viewers eyes. They should be crisp, informative and grab your attention. Paid ads should feel natural to the viewer as well as unobtrusive. So, whether the ads play YouTube or are embedded in a social media feed, make sure they first intrigue the viewer, before offering a call-to-action that brings them to your website.
Good graphic designers know how to accomplish this better than anyone. Because of this the Graphic Design team offered as part of your outsourced Digital Marketing team a critical marketing expert and has value far beyond drawing and logos.
Pitch Decks and Presentations
Everyone uses pitch decks: from universities and non-profits, to small businesses and large-scale corporations. Pitch decks are usually decorated with brand colors and logos. They should feel like a testament to a brand's identity and spirit.
Platforms like PowerPoint and Keynote have made it easy for everyone to make a deck that's at least somewhat presentable. But, when dealing with business proposals, "somewhat" isn't enough. Pitch decks should be dressed to impress and doing that may require bringing in an outside designer to help you achieve your proposed mission.
Take a look at some of the best pitch decks made by today's biggest companies. Across the board they are bold, confident, and designed with the companies' branding in mind. While pitch decks are driven by language and presentation, the visual can't be overlooked. A skilled graphic designer will be able to work with you to finesse your pitch deck into a sleek vision that fits your brand like a well-tailored suit.
Along with the layout of a pitch deck, the custom graphics and charts provided by a designer are the extra touch that make your presentation memorable to your audience.
You can always hire someone to work on materials needed to make your pitch decks shine. However, by utilizing a digital marketing partner, you will never again be left reaching for materials with a deadline lurking.
"…graphic designers have become indispensable players in the digital marketing world. If you can get the most out of their talent and expertise, it will truly work wonders in your marketing efforts."
Infographics
Custom infographics are popping up more and more as LinkedIn is becoming the world's professional hub. Charts, studies, and creative visual graphics are becoming key for not only companies, but for entire industries. They say a picture is worth a thousand words. And for businesses, an informative infographic should make a case for doing business in one eye-catching, organized frame.
Ever purposeful, infographics can be used on social media, in promo videos, sales pitches, and at conferences. Let's face it, people are tired of seeing boring charts declaring sales figures and market trends. You want a designer on your team that can make infographics that are educational. They should also be interactive and ultimately delivering a swift call-to-action. So, next time you post a stat on your social media, bear in mind all the possibilities that can be explored infographically.
Social Media Design
We mentioned earlier the importance and value of consistency when branding. Brands go to great lengths to find a color scheme, logo, and typeface to match their identity. That's why it's not surprising to see brands develop images called skins to add color and pop to their pages. But what is a social media skin and why should you consider it?
"A skilled graphic designer will be able to work with you to finesse your pitch deck into a sleek vision that fits your brand like a well-tailored suit."
Social media skins come in several forms. The most popular is as a cover photo and side border to your social page. Using a generic border or a staff photo are space fillers on these sites, but there are creative solutions that may work for your brand. Updating your skins with new taglines, special offers, data, and quotes can give your brand homepage a polished, professional look.
Another way we're seeing skins used are in social media posts themselves. Job postings and customer quotes are two popular ways we're seeing this done. By inserting text into graphic frames, you're making eye-catching posts, but you're also establishing a consistent format that's unique to your brand. Regardless of how you choose to use social media skins, it'll take a skilled designer to create and update the look throughout your campaign.
Blog Images
We all agree that stock images are boring, expensive (though cheap looking) and repetitive. And with many companies creating their own original content, it's upsetting to see them recycling the same bland images and title cards. If you're running a company blog, it's time to think seriously about sourcing a designer to complement your content with graphics.
Luckily, most of the earlier graphics we'd mentioned (quotes, skins, infographics and charts) can be inserted in a blog post. But to get the most out of your blog post, you'll want high quality images and title graphics. Throwing in enlarged quotes and pictures can be great, but having that extra decorative touch can work to support your blog points, while also steering clear of the dreaded stock image.
"Digital Marketing specialists are out there to help you with what you need and what is specifically right for your company."
Banners/Swag for Events
We've explained how a design presence can affect your brand's presence on social media, your company blog, pitch deck and paid ads. But after this barrage of digital content, will there be anything physical to show for it?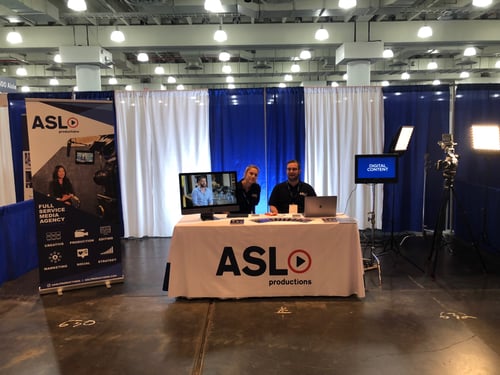 Your company's presence at corporate events, trade shows, and conferences still relies a lot on visual presentation. Banners, booths, flyers, and company swag all have to be designed by someone, right? While you could create a pamphlet online or source the task, your best bet lies with a graphic designer. Just as they are through pitch decks and paid advertising content, first impressions are everything! Having a design team to call on for a corporate event is essential to managing a brand identity.
Why Do I Even Need a Design Team?
In a time where practically everyone entering the job market is capable of putting together a presentable banner or graphic, it's easy to throw brand assets on the table at the cheapest convenience. But just as the masses are becoming design literate, they are also becoming more critical of quality of the work.
So, if you're a brand looking to capitalize on your digital marketing content, it's probably wisest to not take shortcuts. That being said, you don't need to pay a salary to a full-time in-house designer to get top-notch visual assets. Digital marketing partners are out there to help you with what you need and what is specific to your company. Whether it's only paid ads, or a combination of skins and infographics, design teams can work with you to provide a consistent, alluring look to go along with your branding vision.