HOW VIDEO HIGHLIGHTS COMPANY CULTURE
Company culture has taken on greater importance with the rise of social media platforms that put businesses on display to the world. In today's age, promoting your company's values has become nearly as important as the promotion of your product or service. It just so happens that video has become one of the most effective mediums for doing this. With some recruitment agencies reporting 800% more engagement with job ads featuring video, it's no wonder why businesses are turning to company culture videos to highlight why their workplace so special.
Producing a company culture video may seem as simple as filming interviews with employees with some b-roll spliced in. However, the process requires a lot more attention. By the end of the corporate video, the viewer should have a sense not just what your business does, but what values your company shares, and why your employees are driven day in and day out.
To achieve this goal, you'll want a well-rounded video that answers the key questions and paints a captivating picture of your company's vision. Here's our guide to creating a memorable company culture video that touches on all the right points.
Share a Unique Story
Every company's story is integral to who they are. It's ultimately from the humble beginnings that a company's values take shape. So, when producing a company culture video, it's important to summarize the company's history to give a background that provides the audience a sense of the company's foundation.
An unfamiliar viewer will be less interested in dates, names, and places, and more interested in what makes the company special. Company culture videos are introductions of sorts, but they're really at their best when your company stand out from the rest. So, tell your story and be sure to hit on all the aspects that make it unique.
Capturing Faces and Personalities
Of the myriad of corporate videos worth making, company culture videos are the most focused on highlighting your employees personalities. It's no surprise that companies tend to bring out their quirkier side when producing such videos.
While company culture videos still rely on story to draw viewers in, it's the human aspect that makes it memorable. This is especially relevant for service-based companies. If your employees are smart, reliable, and provide friendly service, you better show it off in your company culture video. Even for companies that are product based, your company culture video is a great opportunity to develop your brand identity.
Showing employees that are behind the brand capitalizes on emotional appeal through video far better than it would through text or photo.
Emphasizing Work-Life Balance
Work-life balance has taken on an important meaning in America. 11.4% of workers are working over 50 hours per week. While Americans are extremely hard-working, they also value the freedom and flexibility that come with a good company culture. For company culture videos aimed at recruitment, emphasizing your employees' work-life balance can pay great dividends later on.
"Work-life balance is an essential aspect of the modern workplace, and capitalizing on it will make sure your video does its job of illustrating your company's culture."
When planning your company culture video, acknowledge the employees as not only their profession, but as mothers, fathers, hobbyists, explorers, gamers, or whatever else it is that they love to do. Companies often get carried packing loads of information about their company into such corporate videos. But if the goal of a company culture video is to paint a picture of your employee's values, it's best to focus on the employees themselves.
Work-life balance can mean a lot of things. From paid time off to maternity leave, there are many factors that go into employees' maintaining a balanced lifestyle. If your company values its employees (as I hope it would), honing in on their individuality can be a great way to make your video stand out from the pack. Work-life balance is an essential aspect of the modern workplace. Capitalizing on it will make sure your video does its job of illustrating your company's culture.
Displaying Perks and Benefits
Employees are all unique and deserve considerable attention within a company culture video, but so is your company! Whether it's having state-of-the-art office space, or a providing lunch options every day, each company is driven by the workplace culture it aims to create. A large part of that comes through the company's perks and benefits.
Perks and benefits packages vary by company, but they all aim to reward employees for their hard work, and foster the best work environment possible. Companies can get pretty creative with their perks these days; from yoga classes to free lunch buffets and work trips. Perks put the employee first and ensure a comfortable work environment.
So what does all this have to do with company culture videos? Basically, if your company offers special perks and benefits, a company culture or recruiting video is the perfect place to show this off. Ultimately, through posting videos on social media and LinkedIn, you'll increase your visibility while initiating a dialogue with future employees.
Letting All Voices Be Heard
If it's not clear by now, employees play a vital role in a company culture video. And while you want their personalities and out of work lives to shine through, you also need to get to the bottom of why they love their workplace.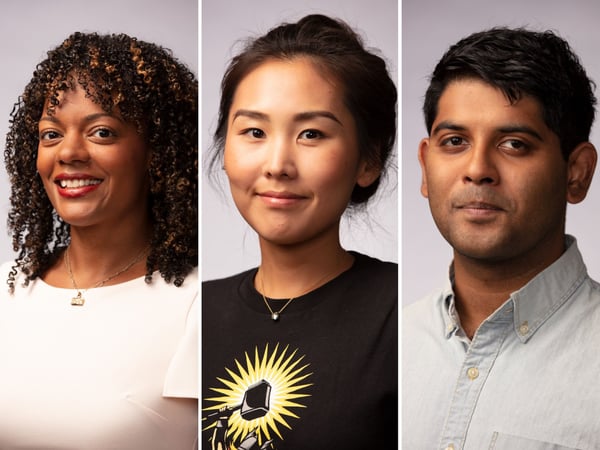 Company culture videos are unique in that they should allow for all voices across a company to be heard. They're not simply places for management to espouse their goals. Instead, company culture videos should highlight the entire scope of the business. From junior employees all the way up to the founders, company values are democratic, so let everyone's perspective be told!
Culture Matters
William Craig of Forbes writes, "How does your company show it cares about all its employees? Dividing the professional from the person no longer applies in modern work culture. While maintaining a professional personal matters, an employee's well-being directly impacts how they perform and engage at work."
When people think of corporate video content, it's generally related to promoting a product or service that a company offers. But as we see the modern workplace evolve, company culture videos are becoming crucial. They prove that the workplace values matter deeply to the work being done.
To discuss how a company culture video can bolster your digital marketing or recruiting strategy, contact us today!